It's Thanksgiving (in the USA) and that means it's the beginning of the
This beautiful kit of rich colours is very festive and perfect for your holiday pages. The 16 patterned papers evoke thoughts of steamy windows from Christmas baking, beautiful gift wrap, and the outdoors. The 8 card stocks are so detailed that you would swear they were real paper. I've included a full sparkly alpha that will add a touch of elegance to your scrapbook pages. And of course, the 56 elements have been meticulously designed to attractively accent your holiday memories.
Holly Days is on sale November 22 for 30% off, on Black Friday it will be a whopping 50% off, and then goes back to 30% off from November 24 until November 30.
Here is mine:
Blog Hop
And on top of that, we made gift tags for you to collect and print out to use this season.
Here is my tag:
And here are the links to the North Stars blogs
http://truenorthscraps.blogspot.com
http://pokisproject2.blogspot.com
http://www.littlestscrapheap.blogspot.com
YOU ARE HERE
http://scrappinmemories78.blogspot.com
http://www.addictedtodigiscrap.blogspot.com
http://homewith3blueeyedbabies.blogspot.com
But WAIT! There's more!

Have you been looking for an elegant black and white kit?
TNS has a beautiful one being released on Black Friday.
5 Shades of Grey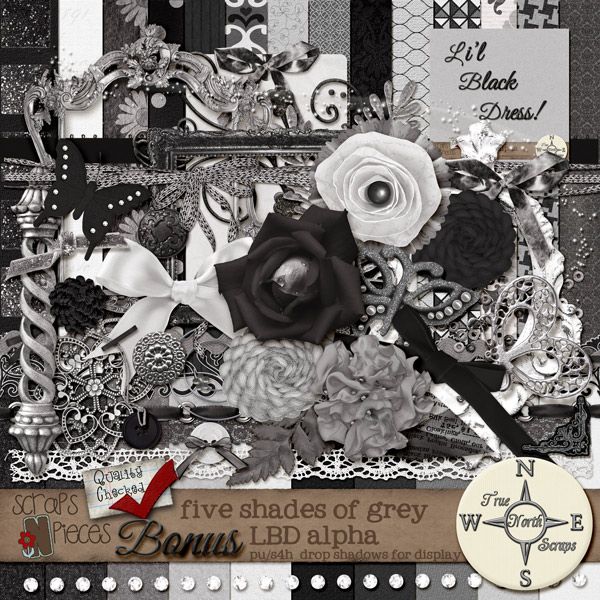 5 shades of grey is destined to be a best seller, just like the book with a similar title.
However, this gorgeous monochromatic kit is much more suitable for scrapbook layouts!
There are 41 glittery, shiny and classic elements inside this kit. The 14 patterned papers, 5 glitter papers and 5 solid papers are a perfect complement to the elements and they will make your LOs exude class.
As a bonus with purchase, the LBD (Li'l Black Dress) Alpha is included for free.
It is also available for sale separately. It's sparkly and just like a li'l black dress, it is a must-have staple for every scrapper!
You can pick up 5 Shades of Grey on Black Friday for 50% off, then it goes to 30% off on November 24 until November 30th.
Here are my pages: